Skip to Content
Shops in San Diego
Stock Up on Those Essentials
Keepsakes, souvenirs, wardrobe staples, and home decor pieces alike are all at your fingertips at our shops in San Diego. Treat yourself to something special or kick off an all-out shopping spree together—stop after stop after stop!
Shops
Sun Diego
Sun–Thurs | 10:00am–8:00pm
Fri–Sat | 10:00am–9:00pm
Specializing in Southern California youth, active, and lifestyle culture, you'll find an array of things from niche, staple, and new-to-the-scene brands.
Wings
Mon–Thurs | 10:00am–8:00pm
Fri–Sat | 10:00am–9:00pm
Swimsuits, body boards, suntan lotion, beach apparel, souvenirs, and more—get everything you need to hit the sand in one spot.
Mission Beach Rentals at Belmont
Daily | 10:00am–8:00pm
Consider this your "fun concierge" with surfboard, body board, and bicycle rentals (with a 50% off the latter for all Belmont Park ticket holders).
San Diego's Best
Daily | 10:00am–11:00pm
Redo your wardrobe with a selection of beach-inspired clothing, plus pick up a gift or two to remember San Diego's spirit of enjoyment.
Beach Trader
Daily | 10:00am–9:00pm
A treasure trove for those who really love the ocean. Stock up on everything needed for the coastal lifestyle, from t-shirts and tanks to sunglasses and more.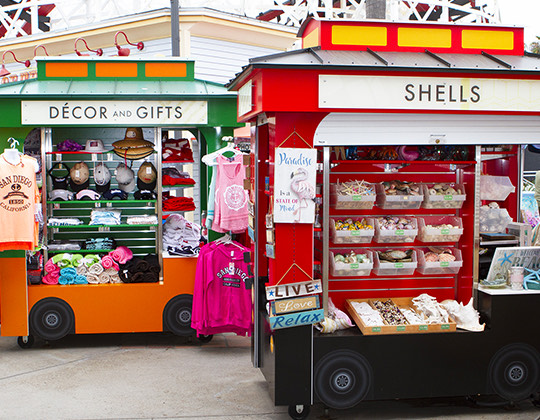 Midway Carts
Mon–Thur | 11:00am–8:00pm
Fri–Sat | 11:00am–10:00pm
Sunday | 11:00am–9:00pm
Browse around and check out our selection of local novelties, like personalized magnets, postcards, key rings, and bracelets.
Belmont Beach Gifts & Apparel
All the clothing and decor you need to turn your home into a beach house, no matter how many miles stand between you and the sand.