Skip to Content
Restaurants in San Diego
Feel-Good Food, All Day Long
Casual or elevated. Laid-back or a little more buttoned up. Full-service or grab and go. From sushi and seafood cravings to a hunger for sandwiches, burgers, snacks, and more, we've got 17 San Diego restaurants to satisfy your appetite for culinary adventure—all located within Belmont Park!
The Restaurants
Our come-as-you-are beach bar is big on bringing the good times with cold brews, good bites, inviting events, and exciting concerts.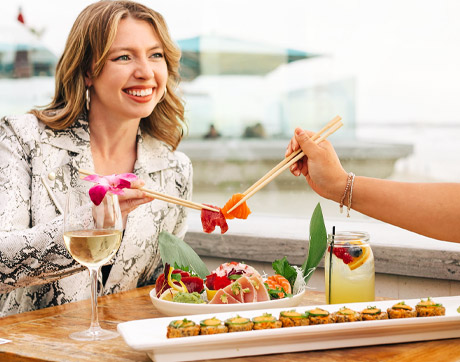 Weekdays | 4:00pm–8:00pm Weekends | 12:00pm–8:00pm
Take your taste buds on a tour of inventive sushi and coastal cuisine perched atop San Diego's largest oceanfront rooftop.
Weekdays | 12:00pm–11:00pm Weekends | 10:00am–11:00pm | Special Miracle hours November 20 - December 31
Pair San Diego's top draft beers with shareable housemade plates, as you watch your favorite team take the field on our 31-foot TV or just kick back and relax.
Draft Coffee
Daily | 7:00am–5:00pm
Get a caffeine kick start from Italian-imported Cafe Vergnano beans.
El Jefe
Daily | 11:00am–5pm
Let the boss serve up too-good-to-miss street-style tacos.
Dole Soft Serve
Daily | 12:00pm–7:00pm
Say "aloha" to pineapple-y goodness.
Hot Dog on A Stick
Mon–Thurs | 11:00am–8:00pm
Fri–Sun | 11:00am–10:00pm
Stick a smile on your face with our handheld classics.
Belmonty's Burgers
Mon–Thurs | 11:00am–8:00pm
Fri–Sun | 11:00am–10:00pm
Go Americana all the way with 100% USDA choice burgers.
Sweet Shoppe
Mon–Thurs | 11:00am–8pm
Fri–Sun | 11am–10pm
Sit back and let your sweet tooth lead the way.
Beach Treats
Mon–Thurs | 10:00am–8:00pm
Fri–Sun | 9:00am–10pm
Waffle cones? Check. Fresh ice cream? Check. Ocean views? Check.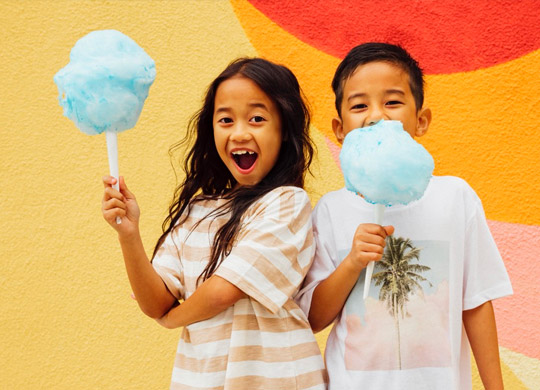 Midway Snacks
Daily | 11:00am–10:00pm
It's not a park day until you've found something to munch on.
Dippin' Dots
Daily | 12:00pm–7:00pm
Cool down by dippin' in for a sub-zero treat.
Round Table Pizza
Hours go here.
Order a pie to share or keep it all for yourself!
Wetzels
Hours go here.
Don't get it twisted—nothing beats a pretzel right out of the oven.
Fry-Yay
Hours go here.
Because every day's a good day when you have some fries in hand.
Ice Churro
Hours go here.
Proof that being both hot and cold isn't always a bad thing.
ICEE
Hours go here.
Take a break. Slurp down your favorite flavor. Just don't get a brain freeze!